Midway Mania of my Ladakh Bike Trip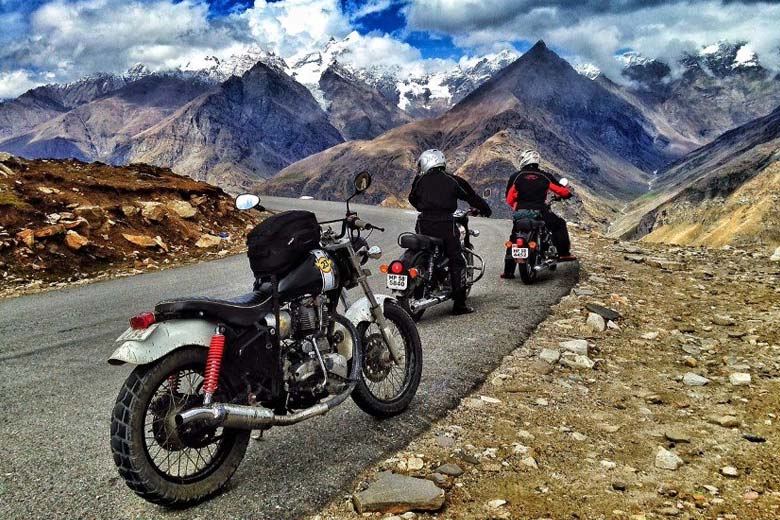 Every adventure junkie dreams of visiting the snowy wonderland called Leh Ladakh once in a lifetime. Well! There are numerous reasons for this. Planning a Ladakh trip on the bike is far more than heavenly. Snow-sprinkled mountains, giving way to the meandering pathways of unknown destination, unsettled valleys and majestic monasteries all combine to create a landscape which settles straight down to your heart.
Battle for the unknown
Here, begins your battle for the unknown. It is unknown because you never know which set of trouble awaits you in the next turn. You are going on your bike, which simply means it could invite any form of mechanical failure and then there are shrewd plays of the unpredictable weather. You need to fight them all with a brave heart.

Manali magic stuffed amid the Ladakh bike trip
If you are coming through the Manali-Leh highway, Manali is a sure sought destination made to be inhaled and exhaled in full fervor. Your short stay at Manali would not only give a restful sojourn to you, but it can also serve you with a platter of panoramic vistas.

Manali is a place meant for fun and frolic. It has plenty of crowded local bazaars, luxurious guest houses, hotels, and pink-cheeked vibrant locals. But, if you want to grab the flavor of solace, you must take your break much earlier, in some nearby villages. Bashisht village is one such place which can offer good hospitality as well as authentic local flavor to your sojourn. Taking a bath in the natural hot spring of the village can lend you an unmatched delight. It can relieve you from your tiredness and revive you instantly.

Hadimba temple must be visited for it is a spiritual place meant to provide serenity to your soul. If you want to explore the authentic savor of the place, you must walk on your toes instead of taking vehicles. You will relish these moments later on when you recollect your memories of this bike trip.

Ecstatic ride to the highest motorable road
At first, it would be hard for you to get into the belief that you were riding through the "Highest motorable road- Khardung la pass". But yes, it stands true. It was such a terrific ride that it seemed almost impossible to cross the road. It would fill your heart with immense pleasure and you could feel a sort of accomplishment sprouting inside.

Visiting Khardung village was a necessary ritual for every rider. A visit to the village could help you in the form of a short tea break, wherein you can gorge upon some flavor full tea and some crunchy snacks loaded with local flavor.

After crossing the Khalsar and Diskit region, you will find yourself in the surreal land of Sand Dunes, the Nubra valley. Spotting Sand-dunes in a snowy cold region is a miracle in itself.